2018 Schedule
All music is at the Rotary Park gazebo just outside the Opera House and is free throughout the festival.
Looking for a text-only schedule? Click here!
4:00 pm
Boo Bradley is a good time two-man Hokum junk and jive orchestra who are as fun to watch as they are to listen to. Meeting up in 2007, Boo Mullarky and Bradley Selz took to Madison, Wisconsin's illustrious State Street with the full intention of bringing the rollicking sounds and antics of the early 20th century jug bands back to life. This refreshing "little jug band that could" features a delightfully rich and clunky sonic palette that is sure to cure what ails you!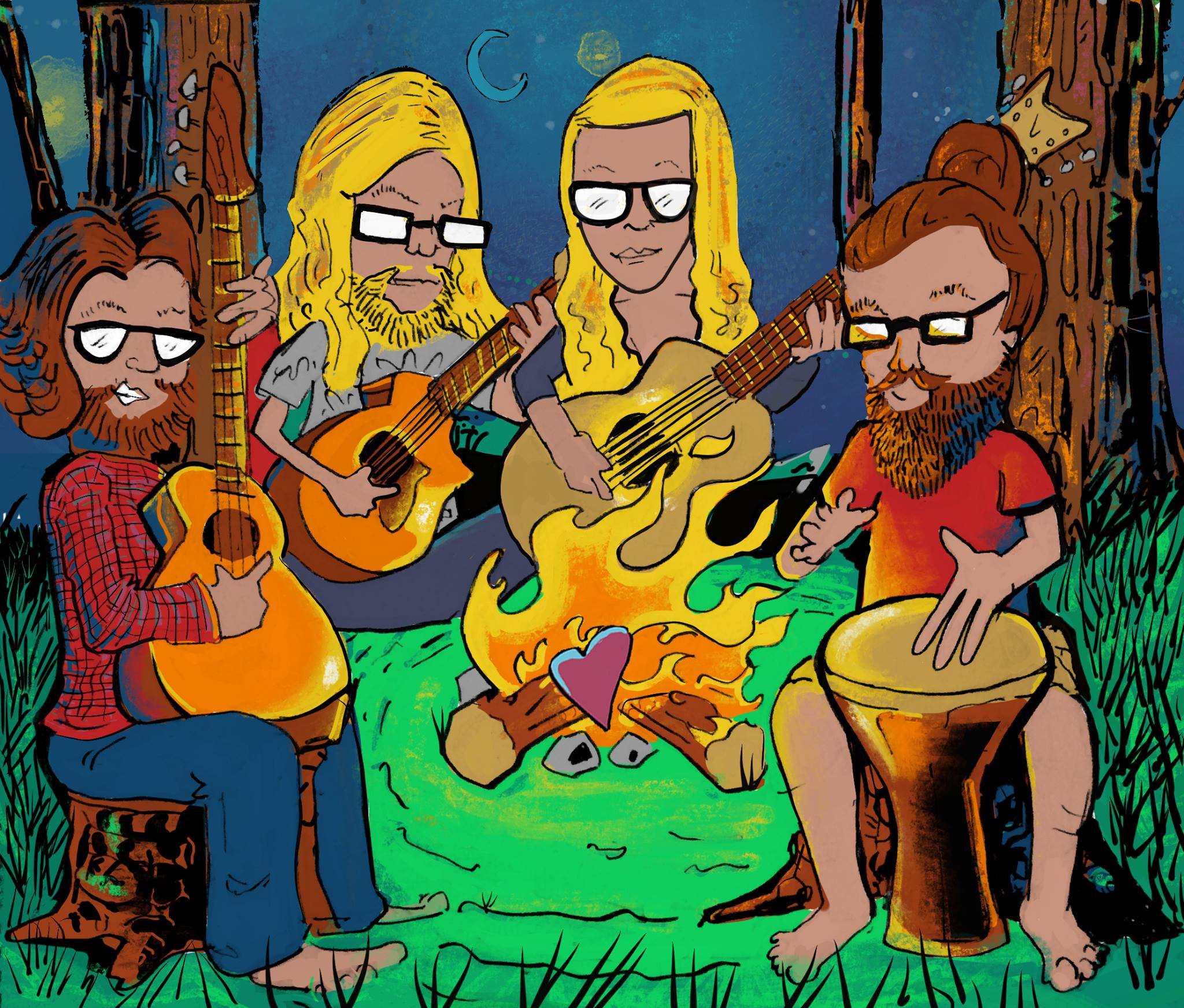 5:30 pm
Cosmic Strings is an acoustic folk/jam band lead by husband and wife Emma and Spencer Houghton on guitar and vocals, featuring Tyler Willenbrink on drums/percussion and Dylan Lewellyn on bass.
Influences in folk, bluegrass, rock n roll and beyond.
12:00 pm
Through songs, poems, and stories, Fendrick and Peck revel in the illumination of the meadows and marshes they live alongside. With their aged acoustic instruments and exquisite harmonies, they strive to be contemporary musical equivalents to naturalists like Thoreau and Wendell Berry. They hope to inspire others to step away, be still, and learn from the natural world around them.
1:15 pm
Birds, Birds, Birds are a Madison duo that play of range of amusing and eccentric original bluegrass and folk songs. The Birds, Birds, Birds repertoire includes topics such as pizza drama, the farmer's daughter, muck boots and so much more. They're great fun!
https://www.facebook.com/BIRDS-BIRDS-BIRDS-1904561549769204/
2:45 pm
The No Name String Band music collective distills the heart of old time fiddle music, jazz/funk improvisation, latin rhythms – with a dram of classical discipline – into their uniquely new time sound. The NNSB spins their own groove on light-footed and hard-driving barn dance tunes of the American south, while slowing down to explore more introspective original compositions.
4:15 pm
Nickel&Rose have influences that span the spectrum of American music. Carl's background brings elements of West African music and Blues while Johanna brings her experience playing Bluegrass, Folk and Jazz. From loss to heart break to love, Nickel&Rose address the human experience with gentle harmonies and soul stirring cries. With a shared appreciation for traditional music and a desire to break rules, the two have have created a unique sound that embodies Americana's past and future.
5:45 pm
The Minneapolis group, fronted by brothers Jack Torrey and Page Burkum, harkens back to the roots of country with its earnest songs and pristine harmonizing. Torrey and Burkum play country music the way the best always have: with an ear for universal truth in commonplace stories and for real emotion in simple melodies.
7:30 pm
Robbie Fulks is a singer, recording artist, instrumentalist, composer, and songwriter. His most recent release, 2017's Upland Stories, earned year's-best recognition from NPR and Rolling Stone among many others, as well as two Grammy nominations, for folk album and American roots song ("Alabama At Night").
12:00 pm
Dave was voted 2016 Children's Performer of the Year by the Madison Area Music Association! Get ready for an upbeat musical program that keeps children engaged, singing, dancing, acting, and laughing a bunch. Adults can sit back and enjoy the show.
1:15 pm
Fans of the Stoughton Opera House will recognize former event coordinator, Christina Dollhausen with her band the iowans. We are so thrilled to have Christina back in Stoughton and the best part is that we get the pleasure of seeing her perform once again!
Transplanted from the fertile soil of Iowa, now hailing from the Driftless Region's musical vortex of Viroqua, Wisconsin comes this pair of first cousins that fill the air with sweet melodies like songbirds in the spring. Katie and Christina weave together whimsical, nostalgic sounds with their clawhammer banjo, guitar and organic harmonies. When these two play together, you can feel it and after a long Driftless winter, they can help you hear it grow.
2:45 pm
A folk musician with strong, expressive vocals and energetic instrumentation, Kendra writes about nature, love, loss, and hope. Her soulful, homey, sincere songs are mostly written for guitar and banjo, but she is also an avid fiddler and violist.
4:15 pm
An easily confused and very shy individual, Charlie Parr has been traveling around singing his songs ever since leaving Austin, Minnesota in the 1980's in search of Spider John Koerner, whom he found about 100 miles north at the Viking Bar one Sunday night. The experience changed his life, made him more or less unemployable, and brings us to now: 13 recordings, 250 shows a year or more, 200,000 miles on a well broke in Kia, and a nasty fear of heights. Resonator fueled folk songs from Duluth, Minnesota.
5:45 pm
As a teenager, Scott Mulvahill picked up the bass guitar on a whim, but found he had a natural proclivity and the drive to continue music study through college while turning his attention to the upright bass. After touring with Ricky Skaggs and Kentucky Thunder for five years, Mulvahill has shared the stage with some of the greatest artists of modern music.
7:30 pm
Equal parts fast-paced and soulful, 5-piece modern-folk Americana act, The Way Down Wanderers, draw listeners in with energy, originality and soulful generosity. Youthful and professionally trained, these young men captivate audiences with soaring instrumentals, foot stomping sing-alongs and a lively stage show.